From the hamlet of Nozarego, you follow the path behind the church and you pass several villas, houses and small condominiums that are renovated old country houses and rural complexes scattered among the olive groves. Here many plants connected to the cultivated areas and the habitats grow nearby, with rare and important species from a scientific aesthetic point of view, such as tiny orchis specimens of the Mediterranean flora and the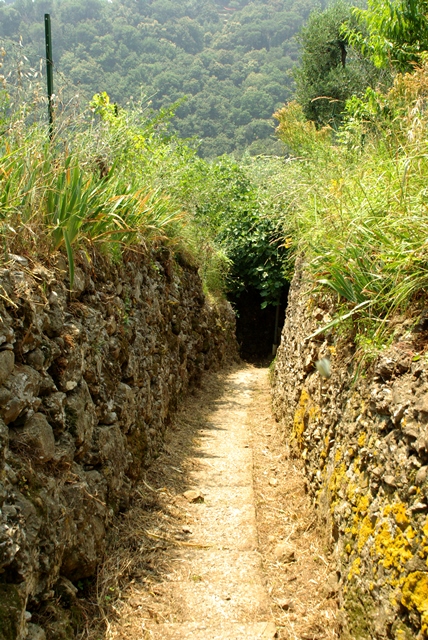 snakeroot.
After a panoramic and open point of view you continue through a tunnel of fences, and villa and garden boundary walls, where you can admire many exotic plants.
You arrive at Casa Costa where you meet another path coming from Nozarego, and you continue southwards along an apparently flat path with interesting views over the coast between Punta Pedale, Punta Cervara, where an ancient abbey stays, over the Golfo del Tigullio and further on.
Here two reptile species live at the edge of their distribution area: the ocellated lizard and the country lizard.
The itinerary passes from the cultivated areas into the Mediterranean mixed wood where the holm oak prevails and also the Aleppo pine tree grows, with also many shrubs of the Mediterranean maquis.
Along the route towards Gave the hillside gradients suddenly change where the Mt. Antola limestone replaces the Portofino conglomerate. The path running along the calcareous hillside that gently stretch seawards is now dominated by steep rocky hillsides.
You reach Cappelletta delle Gave, a sort of watershed that goes down from Mt. Brano towards the inlet of Paraggi and bound its northern side.